TPK, or just Fading Away – What Really Kills Parties?
When this blog started, I was having a great time writing- blog posts just for my own benefit, re-posting funny things I saw and even making my own homebrew content for DmsGuild– then, life got in the way. Too much time spent on work, side-gigs and too much, well, LIFE. Too much adulting, for sure.
For the last year and a half, I've been telling myself I need to get back into it. Not because I think this blog should be the BBAB (Big Bad Awesome Blog) of the D&D world, but just because I enjoy it and it's good for my soul. In addition, recently all of my long-running D&D games also petered out, so no more games, no more writing about games.
Ugh.
However, I'm now down to one job and one mellow side-gig and I think I get to have a life again. It's time to start looking for group and also start writing again.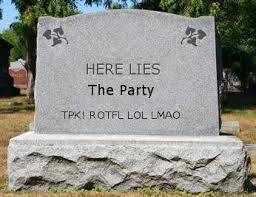 All of this got me thinking; what really kills most games?
It isn't really TPKs because most players and DMs will just roll up a new set of characters and get the game going again.
What kills games the most? Work? School? New girl/boyfriends (or other significant others), like in Stranger Things Season 3? Break-ups? General social drama among players and DMs? Babies? All the same stuff that kills bands as they're starting to get good, right?
What has been the biggest game-killer in your games?