Kickstarter: Legends of Novus Adventures: Kzmatic's Keep
I often get notified of Kickstarters so I figured I might as well add a category for them and give my little nudge of support.
From the description: A one shot 5E adventure for 4-5 players (Lvl 4-5), taking place in a new campaign world being developed.
Just checking out the Kickstarter page make me think this one is pretty interesting. For the $5 level you can get the basic package that includes the following:
PDF of the Kzmatic's Keep Adventure (40 Pages, with Illustration)
PDF of Maps (The Keep, The Chambers, The Maze)
PDF of Poker Card sized Magical Item handouts
To be honest, just getting the magic items cards might be worth $5. They look nicely designed, fun and handy to throw in any game.
Also, the art looks great. Here's a sample: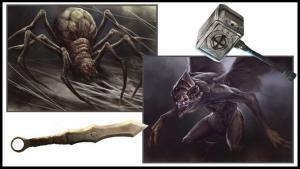 I would definitely say it's worth checking out. Go take a look and let everyone know what what you think.
Also, let us know if you have a kickstarter and I'll do a quickie review like this if I can.